Being a good father is a full-time job requiring dedication and love. Fatherhood comes with no manual, so one learns on the job. As I navigate the beautiful yet tasking path of fatherhood, I realize that the rewards are immeasurable. Join me as I open up about my journey, sharing insights and experiences from raising my incredible children.
"A good father is one of the most unsung, unpraised, unnoticed, and yet one of the most valuable assets in our society."

Billy Graham
My various roles in being a good father
1. The Spiritual Leader of My Family: Guiding Values and Morals
When I exchanged vows with my partner in 2005, I committed to be the spiritual leader of our family. I am responsible for my children's moral and emotional upbringing. Prayer is vital in our family's life as we seek divine provision and protection from the world's challenges. Attending church services together strengthens our bond and reinforces our shared values. As my children grow, I strive to impart wisdom and nurture their spiritual growth.
Key Take-Home Point: Being a good father involves leading by example and instilling strong values in your children.
2. "Captain Driver": Navigating Life's Journeys Together
In the earlier years of fatherhood, my role as our family's sole chauffeur and head earned me the endearing nickname "Captain Driver" from my then two-year-old son. Juggling school drop-offs, extracurricular activities, and appointments became a part of my daily routine. While my wife now shares the driving duties, being present for my children's activities remains a priority. During these car rides, I engage in meaningful conversations, listen to their stories, and strengthen our bond.
Key Take-Home Point: Spending quality time with your children, even during mundane activities, fosters connection and open communication.
3. Head of the Family: Guiding and Protecting
From a cultural perspective, I am seen as the head of my family. This role encompasses guiding my children and ensuring their physical protection. As a father, I strive to create a safe and nurturing environment where my children can grow and thrive. I encourage their individuality while providing gentle guidance to help them make informed decisions. Protecting them from harm is not only a physical duty but also an emotional one.
Key Take-Home Point: Being a good father means guiding and protecting your children physically and emotionally.
'If you want your children to turn out well, spend twice as much time with them, and half as much money.'

Abigail Van Buren
4. Provider: Nurturing Financial Stability
As a father, I take pride in being a financial provider for my family's needs. However, I am grateful that my wife also works and contributes to our household. Balancing work responsibilities and family commitments can be challenging, but ensuring my children's needs are met is essential. By teaching them the value of hard work and financial responsibility, I hope to instil lifelong skills that will serve them well.
Key Take-Home Point: Being a good father involves nurturing financial stability while teaching your children valuable life skills.
5. The Handyman: Fixing More Than Just Broken Things
With my technical skills, I've become the go-to person for fixing various things around our home. From plumbing and electrical repairs to maintaining our garden and landscape, I strive to create a comfortable and functional space for my family. While I try to tackle these tasks, my busy schedule often calls for professional assistance. Nevertheless, being a handyman extends beyond physical repairs—being resourceful, adaptable, and finding solutions.
Key Take-Home Point: Being a good father means fixing broken things and emotional challenges in your children's lives.
6. Physical Presence and Exemplary Leadership: Leading by Example
One of the most important aspects of being a good father is being physically present for my children. I prioritise quality time with them in a world filled with distractions and demands. Whether engaging in their favourite activities, attending school events, or simply sitting down for a heartfelt conversation, I aim to create lasting memories and deepen our bond. I understand that my actions speak louder than words, and I strive to be an exemplary leader by embodying the values and behaviours I want my children to emulate.
Key Take-Home Point: Being a good father requires being physically present and leading by example.
7. "The greatest thing you can do for your children is love your spouse."
This insightful quote by Stephen R. Covey encapsulates the significance of a solid and loving partnership in the fatherhood journey. As a good father, I understand the profound impact that my relationship with my spouse has on our children.
A strong partnership between parents creates a stable and harmonious environment for children to thrive. I contemplate understanding and meeting my spouse's emotional needs in marriage. Doing that fosters a healthy and loving atmosphere in our home. By prioritizing marriage, we model a loving relationship as a foundation for our children's future relationships.
Key Take-Home Point: Nurturing a solid and loving partnership with your spouse is a visible way to nurture fatherhood.
My regular reflection on being a good dad
During the beautiful chaos of fatherhood, I find solace in regular reflection on the qualities of a good dad. Taking moments to pause and contemplate allows me to assess my progress, strengthen my bond with my children, and make adjustments when needed.
Here are some of the critical questions I regularly contemplate:
1. Am I Actively Involved in My Children's Lives?
Being a good father means being actively involved in my children's lives. I ask myself if I am conscious of spending quality time with them, participating in their activities, and showing genuine interest in their well-being. Engaging in their world deepens our connection and creates lasting memories they will cherish.
2. Do I Prioritize Open and Honest Communication?
Effective communication is the cornerstone of any relationship, especially between a father and his children. I reflect on whether I prioritize open and honest communication with my kids. Am I actively listening to their thoughts, feelings, and concerns? Am I creating a safe and supportive environment where they feel comfortable expressing themselves?
3. How Do I Handle Challenges and Discipline?
Challenges and discipline are inevitable parts of parenting. To be a good father, I contemplate how I handle these situations. Am I consistent, fair, and firm in teaching my children right from wrong? Do I provide guidance and support while instilling important values and life lessons? Striking the right balance between discipline and empathy is crucial in helping them grow into responsible and compassionate individuals.
4. Do I Lead by Example?
Children learn by observing and imitating their parents. As a father, I am mindful of the behaviours and attitudes I demonstrate in front of my children. I reflect on whether I embody the qualities I want them to emulate—respect, responsibility, and integrity. Leading by example means being conscious of my actions and striving to be the role model they need.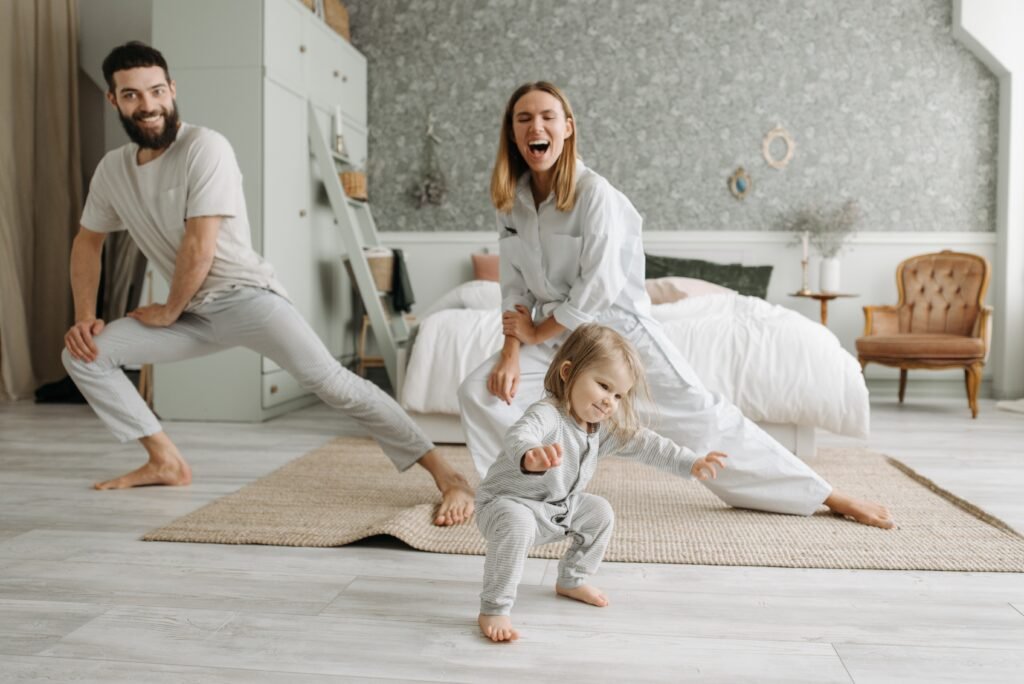 5. Am I Supportive of My Children's Dreams and Aspirations?
Part of being a good father is supporting my children's dreams and aspirations. I contemplate whether I am encouraging them to pursue their passions and believe in their potential. Am I providing a nurturing environment that empowers them to explore their interests? By fostering their growth and individuality, I am nurturing their self-confidence and setting them up for success.
6. How Do I Manage Emotions and Handle Conflicts?
Emotional intelligence and conflict resolution skills are essential in building healthy relationships. I reflect on how I manage my emotions and handle conflicts within my family. Am I practising healthy anger management and fostering a peaceful atmosphere? Am I modelling effective problem-solving and conflict-resolution skills? I teach my children valuable life skills by demonstrating calm and constructive approaches.
7. Am I Building Trust with My Children?
Trust is the foundation of any strong relationship, including the one between a father and his children. I constantly evaluate whether I am building trust with my kids. Am I consistently following through on my promises? Do I prioritize honesty, openness, and respect for their boundaries? Strengthening their trust in me is crucial in fostering a deep and meaningful connection.
I can grow alongside my children by regularly reflecting on these aspects of being a good father. Through self-assessment, adaptation, and unwavering love, I strive to be my best dad.
Conclusion
In the rollercoaster ride of fatherhood, I am humbled by the lessons learned. I cherish the small moments and the person I have become through being a good dad. May my experiences serve as a source of inspiration and encouragement for all fathers out there as we embrace the incredible gift of shaping our children's lives. Together, let us strive to be the best fathers we can be. For generations, let's leave a lasting legacy of love, strength, and guidance.
Are you a dad or planning to be one in the future?
I would love to hear about your experience.
Please comment below, or let's continue the discussion on Twitter, Facebook, Instagram, or Linkedin.
Thanks for your time.