Effective communication is the key to a successful marriage. It is the art of talking about and listening to what your spouse says. Intimate conversation requires giving each other undivided attention and avoiding unnecessary interruptions during talks.
In this article, we will look at the benefits of and strategies to cultivate the habit of effective communication in your marriage in no time.
The man speaks in the first year of marriage, and the woman listens.
In the second year, the woman speaks, and the man listens.
In the third year, they both speak, and the neighbours listen.
In the fourth year, the lawyers speak, and the juries listen.
Anon
Intimate, effective communication is one of the most vital emotional needs in marriage and is desired mainly by women.
What is Effective Communication in Marriage?
Communication is critical in any relationship but imperative in a marriage. When you're married, you're sharing your life with someone else, and you need to communicate effectively to ensure both of your needs are met.
Communication is not just about exchanging words; it's also about body language and tone of voice. Both parties need to be honest, transparent, and understanding for communication to be effective.
There are four steps to effective communication:
A) The sender shares his message
B) The receiver interprets what was shared
C) If they share it again, then
D) Both parties agree on how to interpret their piece of information.
Honesty, clarity and understanding are essential for healthy communication, especially in marriages.
Types of effective communication in marriage
There are three types of communication in marriage: verbal, non-verbal, and written.
Verbal communication is the most common type, and it includes spoken words. Verbal communication is necessary because it allows couples to share their feelings and thoughts.
Non-verbal communication involves body language, such as facial expressions and eye contact. It helps spouses to understand their emotions without saying a word. However, sometimes nonverbal communication can send messages in the wrong way. For example, rolling your eyes can communicate that you disagree with what others say. Therefore, it's essential to ask questions such as "What do you mean by that?" to interpret it correctly.
Written communication includes text messages, social media posts, letters, and emails. Written communication can be helpful when couples need to discuss something but cannot talk face-to-face. In addition, this sort of communication comes in handy when one travels outside the home.
Effective Communication Begins by Recognising the Great Potential of Words.
Words are an essential part of communication. But unfortunately, we can use words to build people up or tear them down. So it's vital to use words positively and constructively.
When we use gentle words, it often turns away anger. In The Power of a Positive No, William Ury says, "A soft 'No' uttered with politeness, consideration, and sincerity is more powerful than a 'Yes' that lacks any of those qualities."
Six reasons for effective communication in marriage
1. Reduces misunderstandings.
Misunderstandings can be a common occurrence in any relationship, especially in marriage. These misunderstandings can lead to anger, resentment, and even divorce when these misunderstandings occur. To combat this, we must learn how to avoid misunderstandings and deal with them when they happen.
One fundamental way to avoid misunderstandings is by respectfully communicating our needs and feelings with each other. That means speaking kindly and not starting or avoiding a fight. We must also listen attentively to what our spouse says and avoid interrupting them.
2. Builds respect and trust
Respect is critical in any relationship–be it with a spouse, friend, or family member. However, it's important to remember that respect starts with listening. When you genuinely listen to your partner, you show them that you value their opinion and care about what they say. That is the first step towards building a respectful relationship where both partners feel heard and valued.
3. No need to keep guessing what is said
Keeping communication open in a marriage can be challenging, especially when things get tough. Please don't assume you know what's going on in your spouse's head–talk to them! Please find out the truth behind their stories and work together to find solutions. Marriage is hard, but there are ways to make it easier. Clear communication also saves time in a relationship, as you won't leave your partner guessing the meanings of your words.
4. Increased self-understanding
To communicate with your spouse effectively, you must understand yourself. That includes understanding your strengths, weaknesses, and passions. In addition, you are less likely to react negatively to minor misunderstandings when you know yourself well.
Self-awareness also helps you find ways to improve your communication skills. For example, suppose you know you tend to get defensive when your spouse discusses a particular topic. In that case, you can work on being more open-minded and willing to listen. By understanding yourself and the things that bother you, you can take steps toward becoming a more effective communicator in your marriage.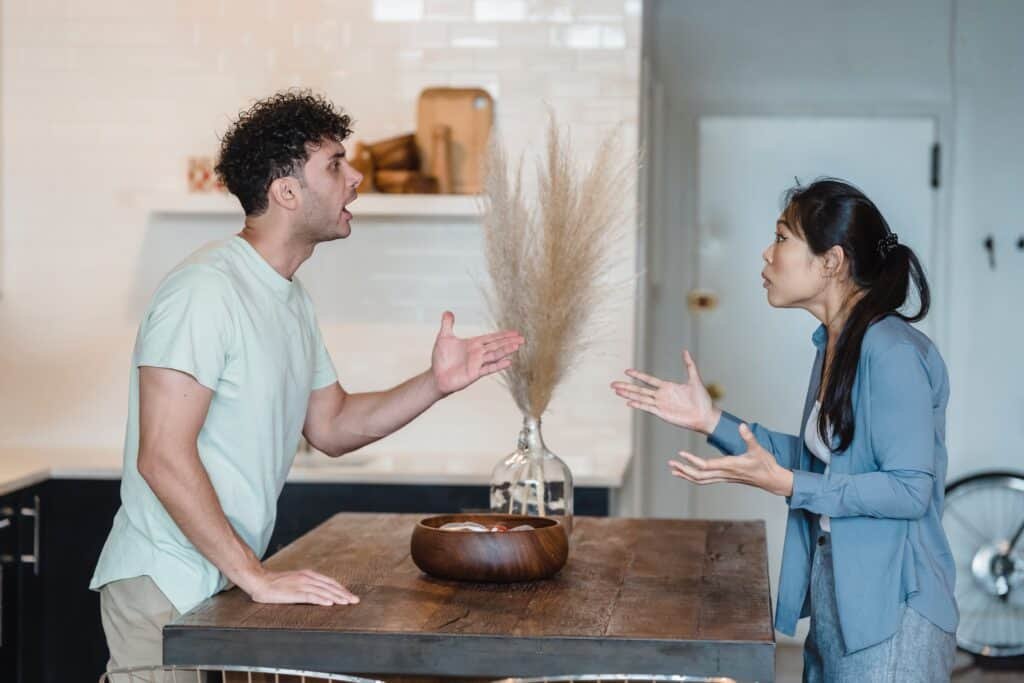 5. Enhanced marital satisfaction
Couples who communicate effectively have the best chance at a healthy, strong relationship. Poor communication is often the cause of marital dissatisfaction, and it can negatively impact health. Married couples should regularly discuss everything on their minds for their relationships to thrive.
Effective communication also promotes growth in marriages. Couples should communicate with each other and share their thoughts and feelings. That will help them understand each other better and ensure they are on the same page. Couples who grow together stay together longer and have a more fulfilling relationship.
6. Health benefits of effective communication
In any relationship, communication is vital. When you and your spouse can communicate effectively, it can lead to a happier and healthier relationship. There are many health benefits to being in a healthy relationship. For example, spending time with your spouse can help rebuild intimacy. A healthy and happy relationship also reduces stress levels and improves mental well-being.
A happy marriage is a long conversation which always seem too short.

Andre Maurois
Principles of effective communication in marriage
Good communication is essential in any relationship, but it's imperative in a marriage. When two people are married, they share their lives and should be able to communicate effectively. That means they need to listen attentively, understand what the other person is saying, and respond in a way that shows they have heard and understood.
Non-verbal communication is also an essential part of marital communication. Gestures and facial expressions can often communicate feelings more effectively than words. However, non-verbal communication can be tricky, and it's essential to make sure that both parties are interpreting it correctly. For example, suppose someone doesn't understand what you're trying to say with your body language. In that case, you should try to clarify your intent.
1. Model respectful listening.
When you are in a conversation with your spouse, be sure to listen respectfully. That means that you should not interrupt them but focus on their words. It can be easy to get caught up in our thoughts and forget to listen to what the other person is saying, but this is counterproductive in any conversation. By listening attentively, you show your partner that they matter and that their opinion is essential.
Try to respond positively as often as possible when your spouse is talking. That doesn't mean you must agree with them 100% of the time. Healthy disagreements can help strengthen a relationship, but it does mean showing them that you are listening and taking their words seriously. For example, you might say, "I hear what you're saying," or "I understand where you're coming from." That will make your spouse feel heard and appreciated. Still, it will also help keep the lines of communication open between you.
2. Choose to be genuinely interested in what your spouse says.
When you are married, it's essential to be interested in your spouse. You don't have to agree with everything they say, but you must make an effort to attend events and have conversations with them. That is the best way to build a foundation of trust and respect.
Respectful conversations should be honest but also genuine. Avoid attacking your spouse or putting them down–this will only cause more damage. Instead, try communicating in a way that promotes understanding and positive change.
3. Write your spouse a note that reinforces your message.
Leaving a note of encouragement or inspiration is a great way to reinforce your message. It could be as simple as "Have a great day." Love notes are a great way to express appreciation and gratitude. There is no downside to sending your spouse a love note, so why not try it?
4. Schedule regular, media-free family mealtimes.
Finding time for meaningful conversation can be challenging when both partners work long hours. But one fundamental way to improve communication in marriage is to schedule regular, media-free family mealtimes. Mealtime provides an opportunity for interaction and bonding by every family member.
Even if children aren't present, a great time to keep the conversation flowing is during a meal. That allows you to catch up on each other's day without being interrupted by work emails or text messages. Plus, it's an excellent opportunity for quality time together as a couple.
5. Make eye contact when you are talking.
Making eye contact when talking to your spouse is vital, as it can help build trust in the relationship. When you look into your partner's eyes, you send a nonverbal message: "I listen to what you are saying, and I care about what you have to say." This simple act can help prevent misunderstandings and ensure both parties feel heard and understood.
A lack of eye contact can signify that someone else is "holding your partner hostage." For example, suppose your partner cannot look at you while talking. In that case, it may be because they feel uncomfortable or threatened by the conversation. Both parties need to feel safe and comfortable for the communication process to work effectively.
Eye contact is also crucial for creating honesty and openness in the relationship. When you make eye contact with your partner, you are willing to be vulnerable and share your feelings honestly. In addition, this type of communication can help prevent tension and resentment from building up over time.
6. Avoid distractions while interacting with your spouse.
When interacting with your spouse, giving them your undivided attention is essential. Checking your phone or looking away can signal that they're not your priority. Such a habit may lead to misunderstandings and confusion. Please put away your phone when spending time with your partner- this will help ensure they feel valued and respected.
Also, it is difficult for meaningful conversations in the house with the television constantly showing in the background. So, turning the TV off for full attention during essential conversations is advisable.
7. Avoid surface-level or single-word responses.
To have good communication, it's vital that we avoid giving surface-level responses or just saying a single word. That doesn't show that we're listening to the other person and trying to understand what they're saying. It can also be frustrating for the other person if they feel like they're not being heard.
Instead, we should try to respond with a complete sentence whenever possible. That shows that we listen and allows us to elaborate on our thoughts. It also makes the conversation more fluid and allows both people to participate more meaningfully.
It's also essential to respond emotionally and logically to questions or comments. Focusing only on words and logic can often leave out important aspects of the conversation. Showing our feelings allows the other person to understand better who we are and how we feel about things.
8. Designate a central location for all critical reminders, dates, and messages.
When it comes to improving communication in marriage, one of the most important steps is to designate a central location for all critical reminders, dates, and messages. That will help ensure both partners can access relevant information about their relationship. Having a designated spot will also help minimise the clutter and chaos that can often occur when two people try to communicate.
It's essential to remember that every couple is different, so you may need to tweak this strategy slightly to make it work best for you. The key is to find a system that works well for both partners and stick with it.
By taking these small but necessary steps towards better communication, you'll have a more fulfilling and productive marriage.
Conclusion
Effective communication is the key to any successful relationship–including healthy marriages. If you cannot have good conversations with your spouse, you will have difficulty resolving conflicts and misunderstandings. To improve your communication, you have to develop your listening habit.
Do you communicate effectively in your marriage, and which of the strategies for effective communication will you implement?
I would love to hear your thoughts.
Please leave your comments below, or let's continue the discussion on Twitter, Facebook, Instagram, or Linkedin.