Your morning routine- what you do the first 30-60 minutes of waking up each day- sets the tempo for your entire day.
Let's be honest. Our lives are busy with many things on our minds when we get out of bed. Checking our Social Media updates and clearing our email inboxes always compete for our attention. But, we may be neglecting what I believe to be the most crucial facet of all: our self-care and personal growth. Stephen Covey described this as "Sharpening the saw" in The 7 Habits of Highly Effective People. We need to install healthy morning routines.
Getting your morning routines right will supercharge your health and boost your productivity.
Getting your morning routines right will supercharge your health and boost your productivity.
Click To Tweet
Some may ask, how do we carve out time when we are already time-choked? A good starting point is reducing the time we spend watching TV, Netflix, and Social Media daily. Then, aim to go to bed a bit earlier so we can wake up on time. Finally, there are practical measures to improve your sleep hygiene.
You've got to get up every morning with determination if you're going to go to bed with satisfaction.

George Horace Lorimer.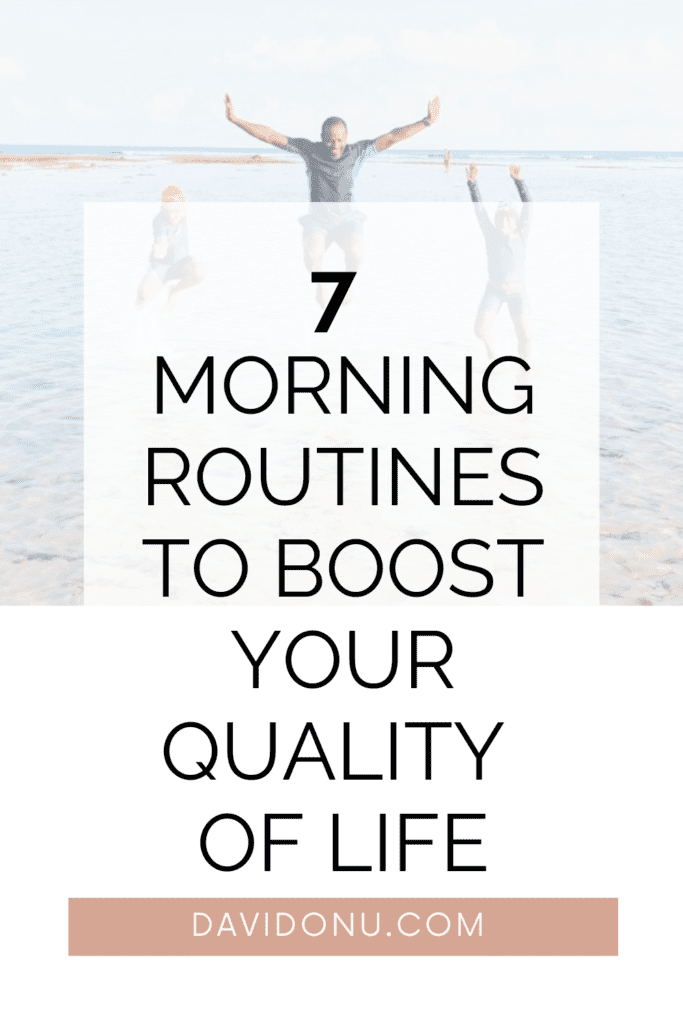 Seven-morning routines for high performance
1. Meditation
All of humanity's problems stem from man's inability to sit quietly in a room alone.

Blaise Pascal

Meditation is an ancient Eastern practice that is becoming embraced in the Western world. Some proven benefits of meditation include: gaining inner peace, increased self-awareness and spiritual connection. Also, it cures insomnia and lowers the incidence of hypertension, stroke, and post-traumatic stress disorder.
Meditation time is not wasted; it has a great return on investment.
Meditation time is not wasted; it has a great return on investment.
Click To Tweet
How to meditate
There are many forms of meditation, such as focused, open-observation and Transcendental Meditation (TM). I prefer the TM, which "involves the use of a silently-used mantra for 15–20 minutes twice a day while sitting relaxed with the eyes closed." You can check out a good explanation of TM on YouTube.
2. Prayer
Prayer is the most powerful form of energy one can generate. It is a force as real as gravity. It supplies us with a flow of sustaining power in our daily lives.

Alexis Carrell
According to Dale Carnegie, Prayer fulfils three functional conditions necessary for problem-solving:
Putting what is worrying us, especially when we have troubles that are so sensitive that we are uncomfortable sharing them with others.
Giving us the feeling that we are not alone in sharing our burdens; and
Putting into force is an act of working toward a solution to our problems.
Even if you are not religious, you can still tap from the power of prayers.

3. Visualisation
Anything you may hold firmly in your imagination can be yours.

William James
Visualisation involves forming vivid images of our goals and desires either in our mind's eyes or through vision boards. To create a vision board, you need to collect a collage of photos of your goals, desires or Bucket lists, which you will display on a wall or in a book. Regular visualisation helps our subconscious mind find ways to complete our goals. In addition, it attracts the circumstances and people who will help us achieve our goals.

Visualisation is such a powerful technique.
I am the greatest, I said that even before I knew I was.

Muhammed Ali

An affirmation is "a statement that describes a goal in its already completed state", according to Jack Canfield. Say out loud to yourself positive statements that reinforce your determination to tackle specific goals and current life challenges. It would help if you made effective affirmations for yourself, not others. Each declaration should start with the first person singular, "I", followed by a powerful verb in the present or continuous tense. Then, describe your goal as if you had achieved it.
My favourite personal affirmations
"I am invigorated by my completely pain-free, strong, flexible, healthy and perfect body, mind and spirit"

David Onu
"I am a reservoir of joy, an oasis of peace, a pool of serenity that can ripple out to all those around me. I am therefore confident and secure."

David Onu
The words we speak have such a significant impact. They can either build us up or pull us down. The choice is ours.

5. Exercise
The only exercise most people get is to run others down, step off their responsibilities, and push their lucks!

Anon.
A balanced exercise regime combines cardio, weight-based, and stretches. The Royal Australian College of General Practitioners (RACGP) recommendation for physical activity for healthy adults:
Accumulate 150 to 300 minutes (2½ to 5 hours) of moderate-intensity physical activity or
75 to 150 minutes (1¼ to 2½ hours) of vigorous-intensity physical activity, or
An equivalent combination of both moderate and vigorous activities each week.
Do muscle-strengthening activities on at least two days each week.
It would be best if you had a consultation with your health practitioner before starting a new exercise program.
6. Reading
Reading is to the mind, what exercise is to the body. As by the one, health is preserved, strengthened, and invigorated: by the other, virtue (which is the health of the mind) is kept alive, cherished, and confirmed.

Joseph Addison
We now have so many options for how we can "read" books. We can read hard copies, PDFs or e-books, not to mention the thousands of blog articles to choose from. And there are also great audiobooks, audio programs and podcasts we can listen to on our devices. Many of the above options are available for monthly subscriptions.
A mindset of curiosity and constant improvement will serve us the best.
7. Journaling
Either write something worth reading or do something worth writing.

Benjamin Franklin
Regularly keeping notes in a physical diary, digital journal, or online portals is good. Some people use writing as a catharsis, while others write just for fun. For example, you could summarise happenings from yesterday and highlight events scheduled for today. Also, you can document the things or people you are grateful for in your life.
Good journaling is imperative for a Year-end review and setting New Year resolutions.
To recap
You have the seven best practices to install into your regular morning routines.
Meditation: quietening your mind from the noises.
Prayer: connecting to a higher power
Visualisation: viewing your goals and desires in their completed forms
Positive affirmation: a good dose of positive self-talk
Exercise: supercharging our strength and flexibility
Reading: feeding our minds with the best knowledge out there
Journaling: documenting critical happenings in our lives
Do you have a morning routine?
I would love to hear your thoughts.
Please leave your comments below, or let's continue the discussion on Twitter, Facebook, Instagram, or Linkedin.
Thanks for your time.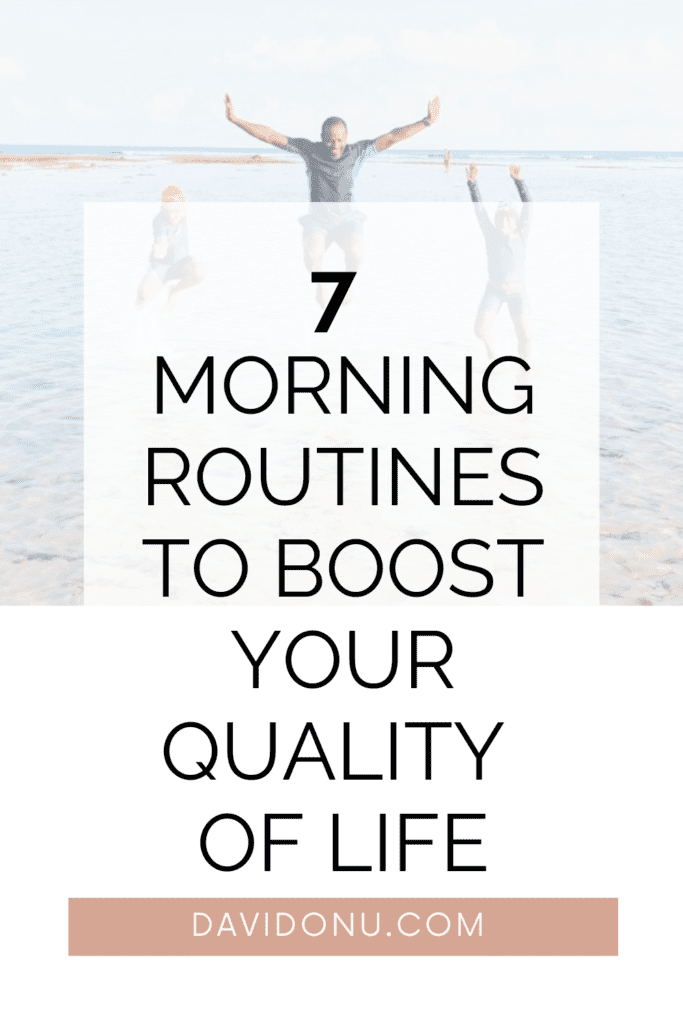 Disclaimer
The information and guidance on this Website are general and do not consider an individual's circumstances. It should, therefore, not take the place of professional health advice. Please use your discretion before taking any decisions based on the information contained on this Website. You should consult your medical practitioner on health issues as each case is different. For more information, please visit our Privacy Policy.