Have you ever pondered, "Is love at first sight real in marriage?" Let me take you on a journey through my love story, which began nearly two decades ago. In 2004, fate brought me to the hospital, where I crossed paths with the love of my life, Favour. As soon as our eyes met, I felt a profound connection. Little did I know that this encounter would profoundly define our lives, proving that sometimes, love at first sight isn't just a fleeting spark; it can ignite a lifelong flame.
"Love at first sight is not just an event, it's a journey."

Unknown
Love at First Sight: The Spark That Ignites
Is Love at First Sight Real in Marriage?
But now, let's dive into a captivating question: Is love at first sight a genuine phenomenon in marriage? Can that initial spark withstand the test of time, evolving into a steadfast and enduring love? In this exploration, we will journey through love at first sight within the context of marriage, drawing insights from personal experiences, scientific discoveries, and the wisdom of relationship experts.
Building a Solid Foundation
My marriage is founded on more than just the initial spark of chemistry. It's a union built on shared values, mutual respect, open communication, and unwavering trust. Love at first sight may have kindled the flame, but sustaining it requires our ongoing effort and investment of time.
Defining Love at First Sight
Before we delve deeper, let's clarify what we mean by "love at first sight." This phrase typically refers to the immediate and intense romantic attraction or connection one feels upon meeting someone for the first time. A rush of emotions marks a sense of familiarity and an overpowering desire to get to know the person better. However, it's essential to distinguish between love at first sight and mere infatuation, as true love entails a more profound and more enduring connection.
The Science Behind Falling in Love
To understand the authenticity of love at first sight, we turn to science. According to the neurobiology of attachment, love at first sight triggers a release of chemicals in our brains, including dopamine, norepinephrine, and serotonin. These neurotransmitters are responsible for pleasure, arousal, and bonding.
However, genuine love—characterized by long-term commitment and emotional attachment—typically requires time to mature. While the initial rush of attraction is real, it's merely the beginning of a potentially profound journey.
Recent 2021 research conducted by Jin Zhang and colleagues emphasizes the importance of readiness and willingness to fall in love in the context of love at first sight. Their study utilized electrocardiography to identify participants who desired to fall in love, ultimately helping them find compatible partners more swiftly and establish romantic relationships.
Influence of Media on Love
Furthermore, research suggests that the experience of falling in love may be influenced by subjective expectations shaped by entertainment media, including television and movies. A study by Veronica Hefner and Barbara J. Wilson 2013 explored how romantic ideals portrayed in movies impact young people's perceptions of relationships. They found that popular romantic comedies from 1998 to 2008 often featured romantic dreams and challenges. Additionally, a survey of 335 college students revealed that individuals who watched such films to learn about romance tended to endorse romantic ideals more strongly than those who did not.
Love at First Sight in Marriage: Real Stories
Countless couples have reported that their initial connection remained strong throughout their married life. These stories attest to the possibility of lasting love emerging from a single moment.
One such story is that of Sarah and Michael, who met at a coffee shop on a rainy day. They felt an undeniable connection as their eyes met over steaming coffee cups. Fast forward ten years, and they are happily married with two children. For them, love at first sight began a beautiful journey that has only deepened with time.
However, it's important to note that not all love stories that start with love at first sight have happy endings. Some initial attractions fade as the realities of life set in, emphasizing the importance of nurturing the connection that first brought two people together.
The Role of Compatibility
"Love at first sight is not something to be taken lightly, but it's something to be cherished forever."

Unknown
Compatibility is a crucial factor in any lasting marriage. While love at first sight can provide a solid emotional foundation, ensuring you and your partner are compatible in the long run is equally essential. This compatibility encompasses various aspects, including values, goals, lifestyles, and communication styles.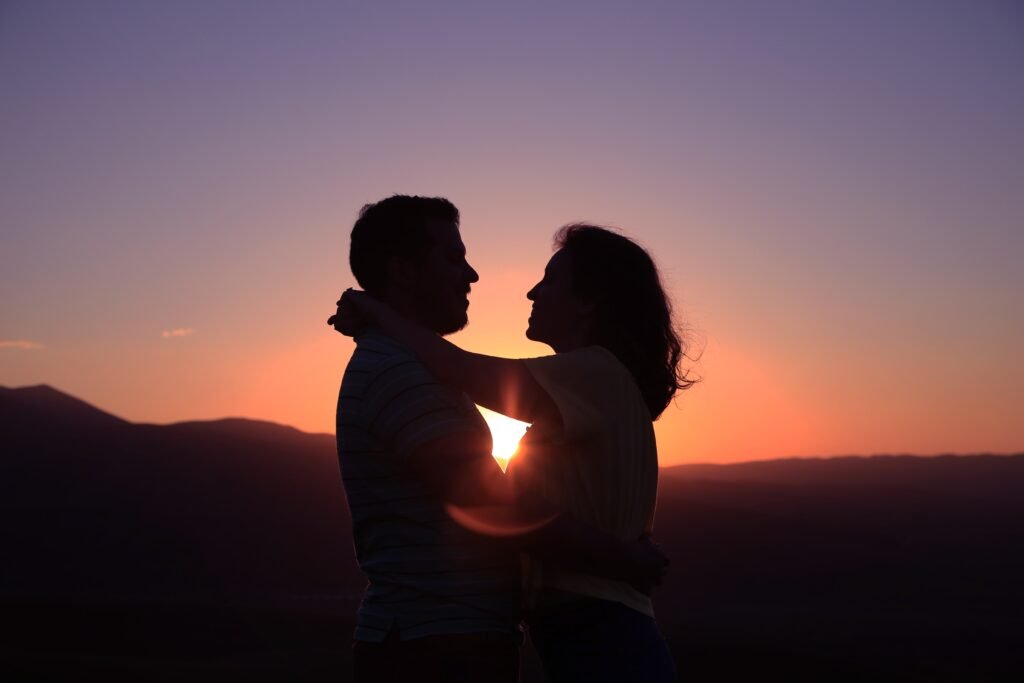 Taking the Time to Know Each Other Truly
Love at first sight often involves an intense physical and emotional attraction, but it may not reveal the nuances of a person's character or compatibility with your own. To determine if your connection can withstand the test of time, it's crucial to take the time to get to know each other on a deeper level.
The Evolution of Love
Marriage is a journey filled with ups and downs; love is no exception. Love at first sight can catalyze a beautiful beginning, but it's only the starting point of a lifelong evolution. Over time, love matures and deepens, transforming into a love rooted in shared experiences, hardships, and unwavering support.
Weathering the Storms Together
In every marriage, there are challenges to overcome. Love at first sight, can provide the initial motivation to weather these storms together, but enduring love sees couples through the darkest days. The willingness to grow and adapt as a team makes a love story remarkable.
Conclusion
So, is love at first sight real in marriage? The answer lies in the nuances of human connection—it's both yes and no. Love, at first sight is undoubtedly a powerful and genuine phenomenon that has ignited countless beautiful love stories. It can catalyze a deep and lasting connection, but it's not a guarantee of a successful marriage.
Marriage is a journey that demands more than an initial spark of attraction. It necessitates ongoing effort, compatibility, shared values, and a commitment to growing together.
I invite you to share your perspective or experiences with love at first sight. Have you encountered this enchanting phenomenon in your own life? Your thoughts and stories are invaluable, so please share them in the comments below.
Please comment below, or let's continue the discussion on Twitter, Facebook, Instagram, or Linkedin.
Thanks for your time.